Anche quest'anno Città Sotto Scacco ha dato il suo contributo all'evento organizzato all'Eye Film Museum di Amsterdam. Il tema di quest'anno è stato "Making Space Together: Designing in the City in Times of Transition".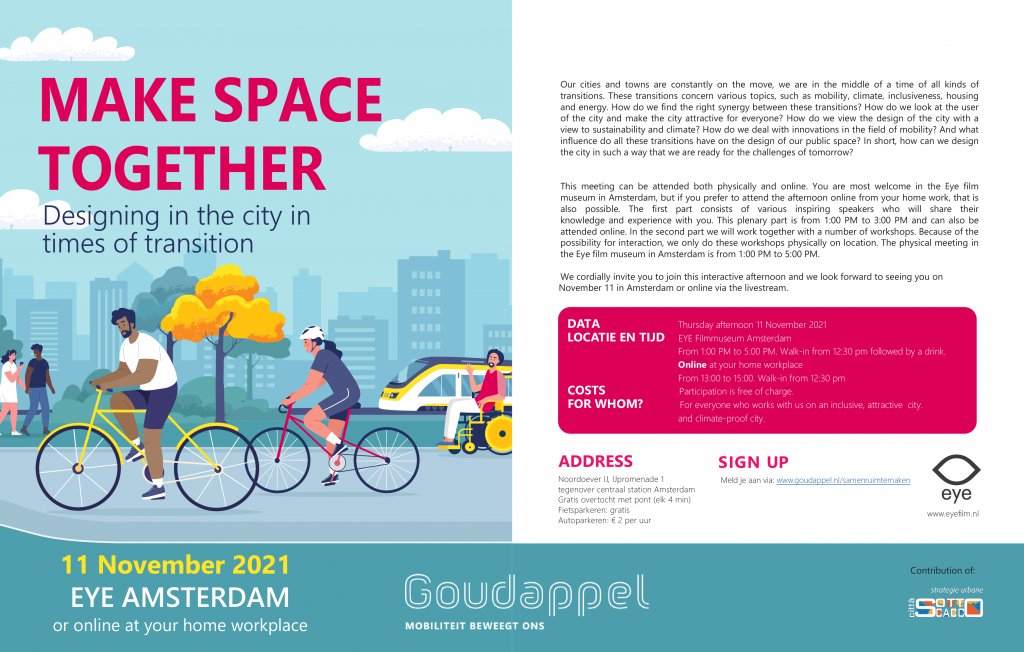 Siamo nel bel mezzo di una transizione a 360 gradi, nel campo della mobilità, del clima, dell'inclusività, delle abitazioni e dell'energia. Ci troviamo quindi ad affrontare una grande questione: come progettiamo le città in tempi di transizione? E come possiamo assicurarci di essere pronti per le sfide di domani? Se ne è discusso giovedì 11 novembre. È stato un evento aperto a tutti all'insegna dell'inclusione. Infatti, oltre alla partecipazione in presenza, è stato possibile partecipare online dal proprio ufficio o dalla propria casa.
Città Sotto Scacco ha contribuito mettendo in luce strumenti e buone pratiche del territorio metropolitano di Venezia che consentono di affrontare il grande tema delle transizioni nelle città e delle grandi masse di turismo. Questa questione è affrontata da due importanti strumenti di pianificazione in corso di realizzazione dalla Città Metropolitana di Venezia e dai 22 comuni che costituiscono il Veneto Orientale. Si parla del PUMS Metropolitano e del Masterplan della Viabilità del Veneto Orientale.
La seconda grande questione che Città Sotto Scacco è stata chiamata a rispondere è: come garantire più spazio a servizio delle persone. Uno dei progetti più innovativi e importanti nel territorio del Veneto Orientale è la ciclovia Venezia – Trieste. Una piccola tratta è stata inaugurata quest'anno nel Comune di Cavallino Treporti. Questa pista ciclabile "sospesa sull'acqua" connette la laguna all'area metropolitana e da più spazio alla mobilità sostenibile, al turismo sostenibile e più in generale alle persone amanti della natura e del paesaggio/panorama suggestivo offerto dal territorio.